Crooked River Full Moon Lighthouse Climb
May 16, 2022 @ 8:00 pm

-

10:00 pm
The Crooked River Lighthouse will be hosting a crazy, creative collaborative at the Full Moon Lighthouse Climb on Monday, May 16, from 8:00-10:00 pm in Carrabelle, FL. Plus visitors can enjoy the opportunity to see the gorgeous natural surroundings of the St. George Sound and Carrabelle Beach under the glow of the rising full moon.
At the May climb, artists Perdita Ross and Joan Matey will be leading an outdoor "paint out" with the magic of black lights and tribal-beat music for an experience that will have guests painting and dancing at the same time! No artistic experience is necessary and visitors are guaranteed to have free-form fun. Brushes, a myriad of fluorescent colors, and a large sculpted sailing ship to paint on will be supplied. By the end of the evening, there will be an awesome, glowing creation to see!
Perdita Ross is an accomplished multi-media artist and graduate of the Art Institute of Chicago. She has inspired thousands of people at galleries, museums, and art parks to engage in creative expression via this outrageously fun method. Joan Matey is also a multi-media artist and has collaborated with Perdita on many blacklight shows and paint-bouts.
Guests can also visit the free Museum and browse inside the Lighthouse Gift Shop for unique nautical gifts and souvenirs. Visitors can also enjoy the glowing fire pit (weather permitting). Bring a chair and enjoy the evening.
The climb to the top of the tallest Forgotten Coast lighthouse rewards bold climbers with breathtaking views of the bay. The cost is $8 for adults and $3 for kids. All climbers must be at least 44 inches tall. Advance reservations are required for those who wish to climb the lighthouse tower during this event by calling the Lighthouse gift shop.
A limited number of climbers (max of 7) are allowed at one time. There will be a time limit for viewing from the top. Guests who would like a more leisurely climbing experience are welcome to enjoy one of the daytime climbs available every Wednesday through Sunday. Masks are welcome but not required.
Crooked River Lighthouse is located in Carrabelle, just west of the Carrabelle Public Beach Park at 1975 Hwy 98 W, Carrabelle. For more information, contact the gift shop at 850-697-2732, carrabellelighthouse@gmail.com , or https://www.crookedriverlighthouse.com/. Funded in part by the Franklin County Tourist Development Council.
photo credit David Stahler
View more events at FloridasForgottenCoast.com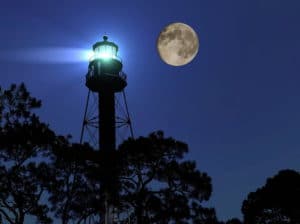 Organizer:
Crooked River Lighthouse
Address:
1975 Hwy 98 W
Carrabelle, FL 32322 United States
Phone:
(850) 697-2732