Welcome to Nature's Paradise
Nestled at the eastern end of Franklin County, Alligator Point includes eight miles of natural coastline along a narrow beach peninsula. This rural beach community can be accessed via US Highway 98 and County Road 370. A delightful slice of Old Florida, Alligator Point boasts uncrowded and unspoiled beaches, fabulous fishing, phenomenal wildlife viewing and—above all else—peace and quiet.
Known as simply "The Point" by locals, Alligator Point is a hidden gem on Florida's Forgotten Coast. The Point's protected bay, Alligator Harbor Aquatic Preserve, encompasses 14,366 acres and serves as a nursery for many game fish species, such as grouper, snapper, cobia, tarpon and redfish.
With miles of pristine beaches and an abundance of shallow bays, marshes and fresh water rivers, this coastal community offers an array of outdoor opportunities—from deep sea and sight fishing, boating and kayaking to swimming, bird and wildlife viewing or just relaxing in the sand.
The various settings of this untouched oasis give refuge to small and large animals alike. Wildlife inhabitants of Alligator Point include black bears, white tail deer, bobcats, foxes, coyotes, otters, a bounty of birds, and yes, a handful of alligators.
Bald Point State Park: A Natural Treasure
A unique feature of Alligator Point is one of Florida's naturally preserved state parks, Bald Point State Park. This 5,000-acre protected area is nationally renowned as an unparalleled wildlife viewing area.
The convergence of Ochlockonee Bay and Apalachee Bay produces diverse habitats, making the park an excellent vantage point for fall and spring migrations of birds and butterflies. Bald Point is also an outstanding observation point for year-round residents, such as black bear, white-tailed deer, coyotes, bobcats and hosts of resident birds. The day-use facilities at the park include picnic pavilions, restrooms and a fishing dock.
Alligator Point is the most peaceful beach destination in the Florida Panhandle. Here you can walk miles without crossing paths with another person, cast a rod in the productive Gulf and bay waters, catch shrimp, enjoy breathtaking sunsets, collect shells or just gather your thoughts. The absence of noise and glaring lights makes for prime relaxation and exquisite stargazing.
What is there to do on Alligator Point?
If you have to ask this question, Alligator Point may not be the destination for you. This quiet, sparsely populated beach retreat is located an hour from structured entertainment. The Point appeals to outdoorsy folks, anglers and visitors seeking undisturbed relaxation. It's a place for people who know how to entertain themselves and whose favorite company is their own.
There are no crowds, strip malls, movie theaters or souvenir shops. There are, however, miles of unpopulated coastline, endless fishing possibilities and exceptional wildlife viewing opportunities. Located 45 minutes south of Tallahassee, Alligator Point offers unsurpassed serenity. Fill your days with as much or as little activity as you desire. Civilization does exist nearby, but you'll have to seek it out – or maybe not.
Why is it called Alligator Point? 

While there may be an alligator somewhere on the Point, this is not the reason for the town's name. Some believe it's called Alligator Point because the peninsula is shaped like an alligator's tail. Others say the tree line at the end of the Point resembles an open-mouthed gator.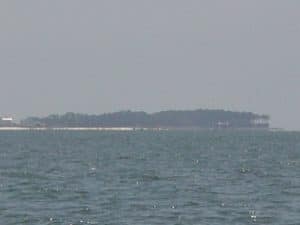 Ready to discover the Forgotten Coast's secret paradise? Plan your getaway to Alligator Point with Harbor Point Vacation Rentals. We have the largest selection of beachfront and bayfront rentals in the area, many of which are pet friendly! Browse our vacation rentals to find the best fit.