Special Exhibit: Honoring Native American Servicemen and Code Talkers
November 1, 2022

-

November 26, 2022
Camp Gordon Johnston WWII Museum in Carrabelle is excited to announce a special exhibit honoring Native American Servicemen. This exhibit will open Tuesday, November 1 and will be on display at the museum until Saturday, November 26, 2022. November is National Native American Heritage Month, and the Camp Gordon Johnston Museum salutes their service and sacrifice. The museum and exhibit is open every Tuesday through Saturday from 11 am to 5 pm and there is no charge for admission. The museum will be closed Thursday, November 24 for Thanksgiving.
"During World War I and World War II, hundreds of American Indians joined the United States armed forces and used words from their traditional tribal languages as weapons. The United States military asked them to develop secret battle communications based on their languages—and America's enemies never deciphered the coded messages they sent. "Code Talkers," as they came to be known after World War II, are twentieth-century American Indian warriors and heroes who significantly aided the victories of the United States and its allies.
The Code Talkers' role in war required intelligence and bravery. They developed and memorized a special code. They endured some of the most dangerous battles and remained calm under fire. They served proudly, with honor and distinction. Their actions proved critical in several important campaigns, and they are credited with saving thousands of American and allies' lives." (Source: The National Museum of the American Indian).
Visitors are invited to come to the Camp Gordon Johnston Museum during this special exhibit and learn about the Native Americans, including members of the Choctaw, Navajo, Cherokee, Pima, Comanche and other nations, that served their country in World War II. Discover the story of the Code Talkers, who used their unbreakable code based on their native tongues to help defeat the enemy. Hear the stories of the seven Medal of Honor Recipients in WWII that were Native American.
View more events at FloridasForgottenCoast.com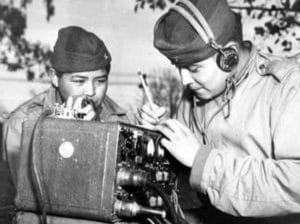 Organizer:
Camp Gordon Johnston WWII Museum
Address:
1873 Hwy 98 W
Carrabelle, FL 32322 United States
Phone:
(850) 697-8575