Soup-er Celebration (Soup, Bread, and Book Sale and Event)
February 18 @ 10:00 am

-

2:00 pm
The Friends of Franklin County Public Libraries will be hosting two Soup-er Celebrations  – Soup, Bread, and Book Sales and Events. The first will be held at the Eastpoint Branch Library, 160 Hickory Dip Rd in Eastpoint FL on Saturday, January 21, 2023, from 10 am-2pm. The second will be held at the Carrabelle Branch Library, 311 St. James Avenue, Carrabelle, FL on Saturday, February 18, 2023, from 10 am- 2pm.
These events feature delicious homemade soups and freshly baked artisan breads  and vintage and used books and DVDs. Local residents bring their delicious homemade soups like seafood bisques, seafood gumbos, chuck wagon chili, Brunswick stew, and more and freshly baked artisan breads for the Friends to sell. Past years featured d dozen different soups ranging from exotic to healthy to old-fashioned soups. The soups and breads sell out very fast so visitors are encouraged come early to get the best selection. Vintage and used books and used DVDs for all ages are also available for purchase. These events will also offer a focus on local culture and art, with music playing like Florida folk music or music from regional musicians. In addition there will be a showcase of regional art from local artists with pottery, paintings, photography and more. Exhibitors from some local organizations like the Master Gardener program and others attend to share their local knowledge with guests. These are family friendly events and all are welcome.
The Friends of the Franklin County Public Libraries (FFCPL) is a 501(c)(3) organization. The funds raised from the Souper Celebration help the Friends to support the Franklin County Public Libraries in Eastpoint and Carrabelle, Florida and their goals to provide informational, educational and cultural materials for the benefit of persons of all ages in the community. The Friends supports many library programs: Summer Reading, Storytimes, ANIME Club, Book Chats, Lego Club and more. In addition, the Eastpoint building is maintained by the Friends with a portion of the cost offset by rent from Franklin County.
Funded in part by the Franklin CountyTourist Development Council. For more information, please contact the Friends of the Franklin County Public Libraries at ffcplflorida@gmail.com or https://www.facebook.com/ffcplfl.
View more events at FloridasForgottenCoast.com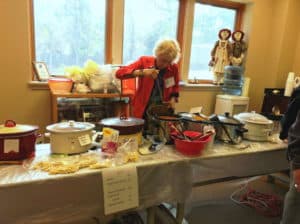 Organizer:
Friends of Franklin County Public Libraries
Address:

Phone: