Grand Re-Opening and Ribbon Cutting of the Cape St. George Lighthouse
February 1, 2021 @ 12:00 pm
The St. George Lighthouse Association (SGLA) along with the Apalachicola Bay Chamber of Commerce will be hosting a ribbon cutting ceremony and grand re-opening of the Cape St. George Lighthouse.
The Lighthouse has been closed for the month of January to complete a significant restoration project – the largest restoration project since the lighthouse was originally reconstructed at the center of St. George Island in 2008. The lantern room cage was suffering with extensive rust and cracked glass panes and the masonry tower was in need of some TLC. Specialized contractors mitigated the lantern room cage of rust and painted the cage with a three-step industrial coating. Additionally, the masonry tower was cleaned and painted and all the glass windows in the lantern room were replaced, offering a clear panoramic view of the Island.
SGLA is a non-profit Florida corporation organized to preserve, maintain and promote the Cape St. George Lighthouse. Funds raised by SGLA are used for the on-going maintenance and enhancement of the Lighthouse, the Keeper's House and Lighthouse Park.
View more events at FloridasForgottenCoast.com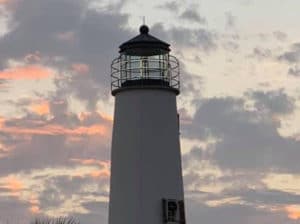 Organizer:
St George Island Lighthouse Association
Address:
2B East Gulf Beach Drive
Eastpoint, 32328 United States
Phone: