Carrabelle Country Farmer's Market
December 4, 2021 @ 9:00 am

-

2:00 pm
With the holiday season approaching, the Crooked River Lighthouse is hosting a special Holiday Market on December 4 from 9:00 am-1:00 pm at Lighthouse Park, 1975 Hwy 98 West, Carrabelle, FL. Wonderful blues duo, "Blues Meets Girl" will be performing live music during the market. The open-air market, at the foot of the lighthouse, features local vendors from the community with perfect gifts and goodies like gorgeous art and photography, handcrafted balms and soaps, handmade goods and craft items, freshly roasted coffee, delicious baked goods like cinnamon rolls and artisan bread, fresh herbs from the Lighthouse's own garden and exotic starter plants. Special for this date, a vintage flea market has also been added.
In addition to the locally-made, hand-crafted goods, shoppers will be able to browse a little of everything from thrift-store worthy scores to high-end antiques. Vendors (new and returning) are welcome to bring their much-loved treasures to the market to find them a new home. The market welcomes an assortment of products such as home décor, furniture, vintage jewelry, music, antiques, tools, ceramics and kitchenware, books, art, toys, and gently used clothing. Items just need to be clean and in good condition.
The musical duo, Blues Meets Girl, is a collaboration of British Blues veteran Mr. Downchild and Texas-born singer/songwriter Kasimira. Together they weave their influences and experiences creating Down Home, Smokin' Sexy Blues.
Guests can also visit the free Museum and browse inside the Lighthouse Gift Shop for unique nautical gifts. In addition, shoppers have the unique opportunity to climb to the top of the lighthouse for a breathtaking view of the Bay.
The Market is actively recruiting new and returning vendors. Vendors may sign up at any time. The cost to be a vendor is $10 a market. For more information, contact 850-697-2732, carrabellelighthouse@gmail.com or www.crookedriverlighthouse.com. Funded in part by the Franklin County Tourist Development Council.
View more events at FloridasForgottenCoast.com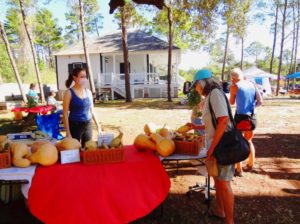 Organizer:
Crooked River Lighthouse
Address:
1975 Hwy 98 W
Carrabelle, FL 32322 United States
Phone:
(850) 697-2732