27th Annual Camp Gordon Johnston Days Parade
The Camp Gordon Johnston [CGJ] Association and WWII Museum are pleased to announce the upcoming 27th Annual CGJ Days Parade in Carrabelle, Florida on Saturday, March 12, 2022, starting at 10:45 AM (ET). There is no military affiliation required to participate, just an appreciation for our veterans and military. There is no charge to enter or participate in the parade.
Participation in the CGJ Parade recognizes and honors all veterans, both in the parade and along the parade route. Our citizens attend this parade to honor and show their appreciation for all veterans including those giving their last full measure of devotion, those having honorably served and those veterans currently protecting our nation.
The parade will feature entries like vintage and restored military vehicles, including WWII DUKW, Willis Jeep, and German Lieferwagen, plus Motorcycles Rider units, color guards, community floats, golf carts, patriotic pets, classic cars, Shriners, bands, and beauty queens. Individuals, community organizations, and businesses are all welcome to participate with a float, vehicle, or as walkers.
The parade starts at 10:45 a.m., from the intersection of HWY 98 and NW 10th Street in Carrabelle traveling east to the intersection of CR 67 [Tallahassee Street] and HWY 98. Spectators can enjoy the parade from anywhere along that route on both sides of HWY 98.
For parade pre-registration, go to the Camp Gordon Johnston WWII Museum website and find the entry form. Complete the entry form – either the online version or the downloadable PDF version – by March 7, 2022, if possible. There is no charge to enter the parade. This completed entry form assists the parade coordinator in assigning the best placement for the entries in the parade. Non-registered and late registered entries are encouraged to participate but may be placed at the end of the lineup. For updates, check Camp Gordon Johnston Museum website or Facebook page.
View more events at FloridasForgottenCoast.com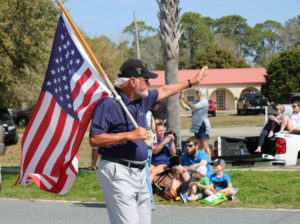 Organizer:
Camp Gordon Johnston WWII Museum
Address:
1873 Hwy 98 W
Carrabelle, FL 32322 United States
Phone:
(850) 697-8575