Camp Gordon Johnston Days, Parade & Dice Run
The Camp Gordon Johnston Parade pays tribute to all veterans of all branches of service. This community parade typically features vintage museum vehicles like the WWII DUKW, Willis Jeep, and German Lieferwagen. In addition, entries include other military vehicles, motorcycles, JROTC units, color guards, veteran organizations, and auxiliary units, and of course, many civic and community floats, decorated golf carts, gorgeous classic cars, Shriners, and beauty queens of all ages. The parade will wind through downtown Carrabelle along US Hwy 98.
Camp Gordon Johnston Museum invites everyone to participate in the parade. Participants do not need any military affiliation to participate, just an appreciation for veterans and the military. Individuals, community organizations, and businesses are all welcome to participate with a float, vehicle, or as walkers. Participants can show their support for our veterans and military service members by displaying red, white, and blue colors. There is no cost to participate in the parade.
Immediately after the parade, the museum will also be hosting a Dice Run as a much-needed fundraiser to support the museum's mission. All types of vehicles are welcome.
Guests are encouraged to come and learn the amazing stories of the region's WWII heroes and see the remarkable artifacts at the Camp Gordon Johnston WWII Museum. Overflow and large vehicle parking are available directly across US Hwy 98 at Carrabelle Public Beach Park. While in Carrabelle, participants are encouraged to stay for the weekend (or the week) and enjoy a variety of community activities, attractions, and restaurants.
Sponsors and volunteers are also needed for these festivities. For more information, go to https://www.campgordonjohnston.com/visit/cgj-days/ or contact the museum at (850) 697-8575 or museum@campgordonjohnston.com.
View more events at FloridasForgottenCoast.com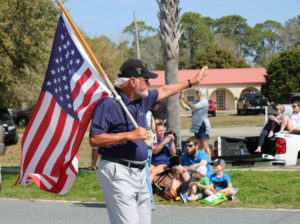 Organizer:
Camp Gordon Johnston WWII Museum
Address:
1873 Hwy 98 W
Carrabelle, FL 32322 United States
Phone:
(850) 697-8575