BioBlitz at SGI State Park
Join the Apalachicola National Estuarine Research Reserve at the St George Island State Park Saturday, September 26, 2020 for an in-person BioBlitz. A BioBlitz, is an intense period of biological surveying to record the living species within a designated area. Learn about the area's plants, animals and marine life as Reserve educators lead participants in finding and identifying species in three distinct habitats-the bay side, an oyster bar, and the beach. Participants will receive coaching in using the Seek app and will be provided with opportunities to find and identify species in three distinct habitats on St. George Island.
Registration is free but required in advance. Click here to register for this free event. Proper precautions following CDC guidelines will be in place, including hand-washing and hand sanitizer stations, social distancing, and mask enforcement for staff and participants. Groups are limited to 10 people and staggered throughout the day to minimize contact. Please fully-charge your mobile phone and install the either app: "Seek by iNaturalist" or "iNaturalist" prior to arrival.
The event is free, but participants will need to pay admission fees at the State Park entrance.
If you are unable to attend the in-person BioBlitz, please join our digital BioBlitz remotely! For the week of September 20th through September 26th, you can contribute your species discoveries from anywhere within the Reserve! Just upload your photos to iNaturalist, tagged with the date and location you found it, and you're in! Click here for more details about our digital BioBlitz.
View more events at FloridasForgottenCoast.com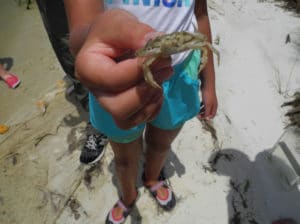 Organizer:
Apalachicola National Estuarine Research Reserve
Address:
1900 E Gulf Beach Dr
St George Island, FL 32328 United States
Phone:
(850) 927-2111