Bay Fest & Tate's Hell 5 K
October 1, 2022 @ 8:00 am

-

4:00 pm
Tate's Hell 5K & Bay Fest will be a full day of outdoor adventure on Saturday, October 1, 2022. The event will take place at St James Bay Golf Resort, just east of Carrabelle, FL, and includes fun for the entire family. Activities include a 5K run and walk, bike safety rodeo, pickleball tournament, live music, food specials, an auction, and more.
At 8 am, the day kicks off with the 7th annual Tate's Hell 5K Run & Walk. This scenic course winds through the wooded forest and meanders through wetlands (via a boardwalk) along the cart path and streets around the beautiful Audubon Sanctuary golf course. St James Bay property backs directly to Tate's Hell on the Crooked River keeping true to the Tate's Hell theme. All ages are welcome to join this family-friendly run and walk. A race shirt is included with all registrations received before September 1st. Registrations are welcome up until Race Day, but a shirt cannot be guaranteed after the Sept 1st deadline.
This event has much in store this year. Families, including children 3 years and up, are encouraged to join in the Bike Safety Rodeo from 10 am-12 pm. Everyone who completes this bike safety course will receive an AAA bike safety certification. Participants are encouraged to bring their own bikes and helmets for a safety check and fitting. A limited number of loaner bikes and helmets will also be available. This event is free to children and adults. The first 50 children riders will receive a free helmet and shirt and several bikes will be raffled off! For more info on the Bike Safety Rodeo, call 850-345-1379.
The fun continues with a Pickleball Tournament! This tournament, hosted by the St. James Bay Pickleball Club, has options for both beginner and intermediate levels. Beginner level begins at 10 am and intermediate at 12 pm. It will be limited to 8 beginner and 8 intermediate teams. Pre-registration is required. For more information, email info@stjamesbayresort.com and call the St. James Bay Pro Shop at 850-697-9606 to pay.
Starting at 9:30 am, Kevin Andrew and Rockulla Music will be rockin' the stage at Bay Fest until 11 am! Then returning for a second year will be local faves, Blues Meets Girl, from 11 am-noon. Plus more activities to enjoy like a key lime pie tasting at 11 am, SUNTrail bike trail info, yummy food specials all day and an awesome auction starting at 9 am. All proceeds from this event go to support the Franklin County Senior Center in Carrabelle. Thank you to this year's sponsors: C-Quarters Marina, Carrabelle Artist Association, Centennial Bank, Crawfordville Rentals LLC, Crystal Clear Auto Glass of North Florida, Golden Construction, The Metcalfe Family, Sandy Beach Properties, Sea Crest Real Estate and Weems Memorial Hospital.
St. James Bay Golf Resort is located at 151 Laughing Gull Lane, Carrabelle, FL. For more information and registration forms, go to https://www.facebook.com/TatesHellandBack5K or http://www.franklincountyseniorcenter.org/. Funded in part by the Franklin County Tourist Development Council.
View more events at FloridasForgottenCoast.com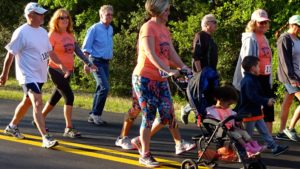 Organizer:
Franklin County Senior Center
Address:
151 Laughing Gull Ln
Carrabelle, 32322 United States
Phone: