Art Exhibition featuring Roger Leonard
September 15, 2022 @ 10:00 am

-

3:00 pm
The Gallery at Rio Carrabelle is excited to be presenting a remarkable art exhibition featuring the art of Roger Leonard in the historic art venue, Rio Carrabelle in Carrabelle, Florida. Roger's exhibit, primarily marine landscapes, is realistic, moody and stunning. This impressive exhibition is on display now and will run through February. Guests are invited to a special Meet & Greet with Roger Leonard on Saturday, October 1st from 6-9 pm at Rio Carrabelle with food, drink & music.
Roger Leonard graduated from Ringling School of Art in Sarasota, Florida in 1974 and has won numerous awards. He worked in commercial art for over 20 years making advertising art and illustrations as well as creating many portraits and murals. After 20 years of commercial art, Roger turned to fine art and sought the freedom of painting only for himself. "Art for me is strictly my need to do it. I need to capture the time, place, feeling of being there, of knowing my subjects intimately. I work hard and try to make it work visually. What it means, I don't know and I don't care. The joy for me is the creating and the painting, then watching and listening to those who enjoy it also. When I hear people's comments like, "I know that place – I can feel the heat – I can smell the rain, the sea – I'd really like to walk there – That looks like what I feel," then I know they sense what I saw." says Roger Leonard.
Roger lived and worked in a studio/home on Dog Island for 15 years, in a rural and isolated environment that inspired him. He now divides his time between Dog Island and his home and studio on River Road in Carrabelle. His professional affiliations include the National Oil and Acrylic Painters' Society, Signature Member; Oil Painters of America; American Society of Marine Artists; and American Impressionists Society, Inc.
Rio Carrabelle Art Gallery is open Tuesdays – Saturdays from 10 am -3 pm at 102 St. James Avenue (US Hwy 98), Carrabelle, Florida. Rio Carrabelle is a unique non-profit art & music destination located in beautiful downtown Carrabelle. Visit riocarrabelle.com or on Facebook, The Gallery At Rio Carrabelle, for more information.
View more events at FloridasForgottenCoast.com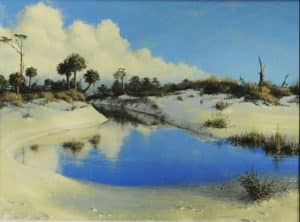 Organizer:
Rio Carrabelle
Address:
102 St James Ave
Carrabelle, FL 32322 United States
Phone:
(850) 307-0098