An Evening with the Artist, Roger Leonard
November 12, 2022 @ 6:00 pm

-

9:00 pm
The Gallery at Rio Carrabelle is hosting a special Meet the Artist Reception with the remarkable painter, Roger Leonard on Saturday, November 12th from 6:00-9:00 pm in the historic and unique art venue, Rio Carrabelle in Carrabelle, Florida. Roger is a graduate of Ringling School of Fine Art in Sarasota, Florida and has won numerous awards including several from the National Oil and Acrylic Painters Society. The reception, in honor of an exhibition of Roger's work currently on display in the Rio, will feature music and refreshments.
This art exhibition, of primarily marine landscapes, has been described as contemplative, striking and mesmerizing. Roger's art reflects his love of the secret parts of Florida. In his paintings he explores places like Dog Island, Indian Pass, Tate's Hell, Dead Lakes as well as the Everglades. His attention to the details of these forgotten, isolated places infuses the viewer with a feeling of solitude and mystery. Roger says, "Art, for me, is strictly my need to do it! I need to capture the time, the place, and the feeling of being there, of knowing my subject intimately and rendering it honestly, completely. When I hear comments like: 'I know that place … I can feel the heat, hear the solitude. I can smell the sea, and feel the rain.' … Then I know they sense what I saw. And they know what my art is about."
Roger Leonard worked in commercial art for over 20 years in advertising, commercial art, design & illustration. Roger lived almost in seclusion on Dog Island for 15 years continually inspired by the rural and remote environment. During that time he developed his own distinctive vision. Currently a resident of Carrabelle, FL, he now divides his time between Dog Island and his Carrabelle home. His professional affiliations include the National Oil and Acrylic Painters' Society, Signature Member; Oil Painters of America; American Society of Marine Artists; and American Impressionists Society, Inc.
The Gallery is open Tuesdays-Saturdays from 10 am-3 pm at 102 St. James Avenue (US Hwy 98), Carrabelle, Florida. Rio Carrabelle is a unique non-profit art & music destination located in beautiful Carrabelle. Visit www.riocarrabelle.com for more information or find us on Facebook at The Gallery at Rio Carrabelle.
Please note: this event was originally scheduled for Sat Oct 1 and was rescheduled due to uncertainty with Hurricane Ian.
View more events at FloridasForgottenCoast.com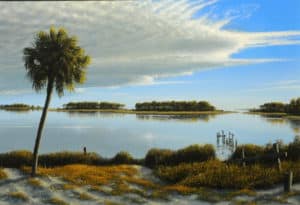 Organizer:
Rio Carrabelle
Address:
102 St James Ave
Carrabelle, FL 32322 United States
Phone:
(850) 307-0098