A new spring date brings back a popular event, Smithsonian magazine Museum Day.  All three of Carrabelle's wonderful museums will open their doors free of charge on Saturday, April 4, 2020 pm as part of Smithsonian magazine's 16th annual Museum Day. This national celebration honors museums that follow the example of the Smithsonian with free admission. In salute to this day, Carrabelle History Museum, Camp Gordon Johnston WWII Museum, and Crooked River Lighthouse Museum will have special activities and exhibits.
Museum Day goes beyond getting visitors through museum doors—it acts as a springboard to empower and help advance the hopes and ambitions of the public. This year, Smithsonian magazine has chosen to theme the event around "Earth Optimism" in celebration of 50 years of Earth Day, changing the conservation conversation to optimism and opportunity.
In keeping with this theme, Carrabelle's three history museums will highlight how conservation is not a new or trendy idea at all, but is instead a hallmark of our local history. This rural part of the country, where people still go to get away from it all, was at times in the past extremely remote. Self-reliance were requirements for surviving and thriving. Folks in Carrabelle historically sustained themselves via fishing and living off the land. They recycled, repurposed and made do. Artifacts like ration cards, journal entries, and old-fashioned kitchen items will highlight the way life used to be.
INFORMATION ON MUSEUMS AND EXHIBITS
Camp Gordon Johnston WWII Museum
Camp Gordon Johnston WWII Museum honors the military men and women as well as civilian personnel who trained and worked in Carrabelle and Franklin County during 1942 through 1946.  The museum houses numerous displays of military artifacts, photos and memorabilia of many types. Camp Gordon Johnston WWII Museum is located at 1873 Highway 98 West, directly across from Carrabelle Beach where military troops practiced D-Day beach assaults. Saturday hours 11am –5 pm.
Carrabelle History Museum
The Carrabelle History Museum features local artifacts and exhibits including Carrabelle's Native American people, the Steamship "Tarpon", the original "World's Smallest Police Station", Carrabelle industry and culture (seafood, lumber and more) and families from the pioneer days to the present. The Carrabelle History Museum is located at 106 Avenue B, SE, Carrabelle, FL. Saturday hours 10am – 5pm.
Crooked River Lighthouse
The history and the science of the Crooked River Lighthouse are displayed through interesting exhibits, including a historical setting of the early 1900's, examples of beacons, the methods of constructing a skeletal tower lighthouse, plus the original Keeper's House clocks, a barometer, a glass fire grenade, and more. Also on the grounds, a nice picnic area features tables, a shelter and a small playground. Crooked River Lighthouse is located at 1975 Hwy 98 West, Carrabelle. Saturday hours 9am – 5pm.
More information, including a list of participating museums, and Museum Day tickets will be available for download at Smithsonian.com/museumday.
Event data provided by Franklin County TDC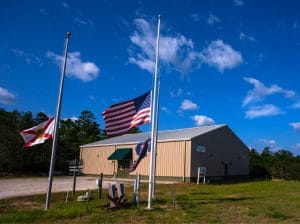 Organizer:
Carrabelle History Museum
Address:
105 St James Ave
Carrabelle, FL 32322
Phone: