Carrabelle's three museums will open their doors free of charge on Saturday, September 18, 2021, as part of Smithsonian magazine's 17th annual Museum Day, a national celebration of boundless curiosity. This national celebration honors museums that follow the example of the Smithsonian. In honor of this day, Camp Gordon Johnston WWII Museum, Carrabelle History Museum, and Crooked River Lighthouse Museum will have special activities and exhibits.
Museum Day goes beyond getting visitors through museum doors—it acts as a springboard to empower and help advance the hopes and ambitions of the public. It represents a national commitment to access, equity and inclusion. With many public spaces being shut down for a year or more, Museum Day 2021 celebrates the reopening of museums after long closures due to the COVID-19 pandemic. This year's theme, Experience America, represents the return to, and resurgence of, our country's diverse cultural experiences, in the safest possible way. While admission will be free of charge, the museums will have safety precautions in place for this year's event so guests can safely and comfortably enjoy their experience.
Camp Gordon Johnston WWII Museum
Camp Gordon Johnston WWII Museum honors the military men and women as well as civilian personnel who trained and worked at Camp Gordon Johnston during WWII. The museum houses numerous military artifacts, photos and memorabilia of many types. Located at 1873 Highway 98 West, directly across from Carrabelle Beach where military troops practiced D-Day beach assaults. Saturday hours 11 am – 5 pm. More information contact, (850) 697-8575 or museum@campgordonjohnston.com.
Carrabelle History Museum
Carrabelle History Museum features local artifacts and exhibits including Carrabelle's Native American people, the Steamship "Tarpon", the original "World's Smallest Police Station", Carrabelle industry and culture and families from the pioneer days to the present. Located at 106 Avenue B, SE, Carrabelle, FL. Saturday hours 10 am – 5 pm. More information contact, 850-697-2141 or carrabellehistorymuseum@gmail.com.
Crooked River Lighthouse
The history and the science of the Crooked River Lighthouse are displayed through interesting exhibits, including a historical setting of the early 1900's, examples of beacons, the methods of constructing a skeletal tower lighthouse, plus the original Keeper's House clock, a glass fire grenade, and more. Located at 1975 Hwy 98 West, Carrabelle. Saturday hours 9 am – 5 pm. More information contact, 850-697-2732 or carrabellelighthouse@gmail.com.
View more events at FloridasForgottenCoast.com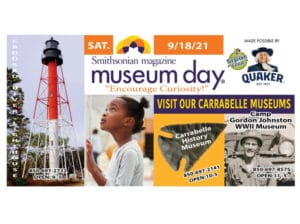 Organizer:
Camp Gordon Johnston WWII Museum
Address:
Carrabelle, FL United States
Phone: