Camp Gordon Johnston Golf Tournament and Benefit
Please join us at the Camp Gordon Johnston Golf Tournament and Benefit.  9AM shotgun start. 4 player select-a-shot Captain's choice or Team Scramble format.  All 18 holes will be played as par 3's.  Entry fee is $320 per team. Fee includes green fees, cart, and lunch afterwards.
Due to the pandemic of 2020, we will honor a request for an individual cart, although we encourage 2 to a cart for purposes of more participants and more funds to the charity. To participate, pick up a form at the Camp Gordon Johnston Museum, St. James Bay Golf Resort, Franklin County Senior Center or the Carrabelle Chamber of Commerce. All proceeds will help fund a new building to house Camp Gordon Johnston's three historical military vehicles, including the famous WWII DUKW. These historical military vehicles are still operable and because of the current lack of space onsite at the museum, they must be kept at a separate location. There are many sponsorship options available to support the Museum. A variety of volunteer opportunities are also available for positions like greeters and judges.  Help preserve the memories of those who serve.
View more events at FloridasForgottenCoast.com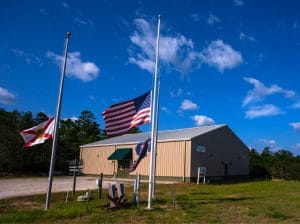 Organizer:
Camp Gordon Johnston WWII Museum
Address:
151 Laughing Gull Ln
Carrabelle, 32322 United States
Phone: